Long Island's Best Allergist
The Allergy, Asthma, and Immunology team at Heart and Health Medical is led by renowned award-winning Allergist & Immunologist Dr. Luis Guida Jr. one of the most recognized medical authorities of Allergy & Immunology care in Long Island. Dr. Guida and The Allergy & Immunology team at Heart and Health Medical have 36 years of experience providing Allergy care for the Long Island Community in four locations; Massapequa, Coram, North Babylon, and Plainview.
36 Years of Experience 

Accepts Most Health Insurances

Award-Winning & Recognized Medical Leader

Board Certified Allergist & Immunologist

Four Convenient Long Island Locations

Top-Rated Allergist & Immunologist In New York
Louis E Guida, Jr. MD, FCCP, FAAAAI, FACAAI
Board Certified in Allergy, Asthma and Immunology, Pediatrics
Dr. Louis E. Guida Jr. is a renowned Allergy & Immunologist with over 36 years of experience diagnosing, treating, and managing allergies, asthma, and immune disorders for members of the communities of Long Island, New York. Dr. Guida was initially awarded his medical degree from St. George's University School of Medicine. He completed his internship and residency in Pediatrics at Monmouth Medical Center, Long Branch, New Jersey. He went on to complete two fellowships – Cystic Fibrosis (Adult and Pediatric) and Pediatric Pulmonology at Hahnemann University Hospital in Philadelphia, Pennsylvania, and Adult & Pediatric Allergy / Immunology at Nassau County Medical Center in East Meadow, New York.
Dr. Guida's hospital affiliations are Good Samaritan Hospital Medical Center in West Islip, New York, and St. Charles Hospital, Port Jefferson, New York. He is an adjunct clinical assistant Professor of Pediatrics at the New York College of Osteopathic Medicine. He is the Medical Director of the adult and pediatric Cystic Fibrosis Programs and the Family Asthma and Allergy Center at Good Samaritan Hospital Medical Center. He is a fellow of the American Academy of Allergy, Asthma and Immunology, American College of Chest Physicians and the American Academy of Pediatrics.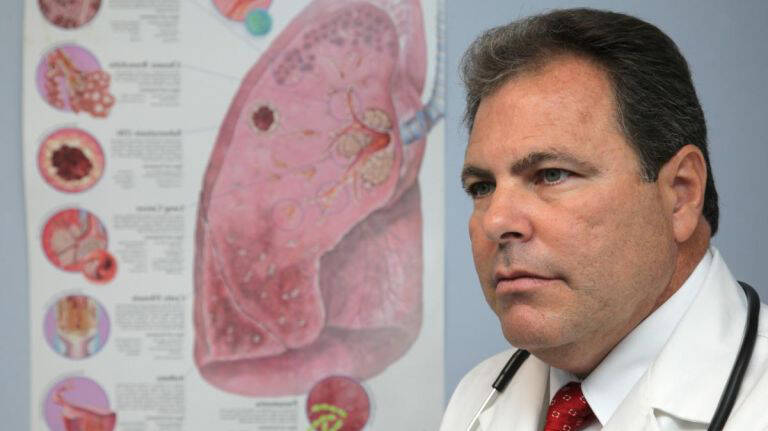 Adult & Pediatric Asthma
Allergy
Pulmonology 
Hospital Affiliations
Good Samaritan Hospital Medical Center
St. Charles Hospital
Fellowships & Memberships
Fellow of The American Academy of Allergy, Asthma, and Immunology
Fellow of The American Academy of Pediatrics
Fellow of The American College of Allergy, Asthma, and Immunology
Fellow of the American College of Chest Physicians
New York Allergy Society
Long Island Allergy Asthma Society
Cystic Fibrosis Foundation
American Medical Association
Nancy Kohlhoff
2021-07-01
RoseAnn Larson
2021-02-27
Melinda Lichioveri
2021-02-04
lori Friedmann
2020-12-08
Dr.Guida has treated my daughter for asthma since she wes 2 1/2 years old, he is the best truly the best ! He bedside manner, his kind nature, and his approach to treating the asthma. I highly recommend him ! Thank you Dr. Guida !
Great service.
everili Sanchez
2020-08-04
dr.guida best doctor I ever seen ..very happy ,show compassion,very profetional ... staff very friendly ...
Allergy Symptoms, Diagnosis, & Treatment
Allergies are among the most common chronic conditions worldwide. Allergy symptoms range from making you miserable to putting you at risk for life-threatening reactions.
Allergy symptoms, an allergic reaction begins in the immune system. Our immune system protects us from invading organisms that can cause illness. If you have an allergy, your immune system mistakes an otherwise harmless substance as an invader. This substance is called an allergen. The immune system overreacts to the allergen by producing Immunoglobulin E (IgE) antibodies. These antibodies travel to cells that release histamine and other chemicals, causing an allergic reaction.
Three primary types of allergens:
Inhaled allergens affect the body when they come in contact with the lungs or membranes of the nostrils or throat. Pollen is the most common inhaled allergen.
Ingested allergens are present in certain foods, such as peanuts, soy, and seafood.
Contact allergens must come in contact with your skin to produce a reaction. An example of a reaction from a contact allergen is the rash and itching caused by poison ivy.
Allergy tests involve exposing you to a very small amount of a particular allergen and recording the reaction.
Allergies affect more than 50 million people living in the USA, according to the American College of Allergy, Asthma, and Immunology. Inhaled allergens are by far the most common type. Seasonal allergies and hay fever, which is an allergic response to pollen, affect more than 40 million Americans.
Allergy testing can determine which particular pollens, molds, or other substances you're allergic to. You may need medication to treat your allergies. Alternatively, you can try to avoid your allergy triggers.
Allergy tests may result in mild itching, redness, and swelling of the skin. Sometimes, small bumps called wheals appear on the skin. These symptoms often clear up within hours but may last for a few days. Mild topical steroid creams can alleviate these symptoms. On rare occasions, allergy tests produce an immediate, severe allergic reaction that requires medical attention. 
Blood Test

Elimination diet

Skin Test

Patch Test

Scratch Test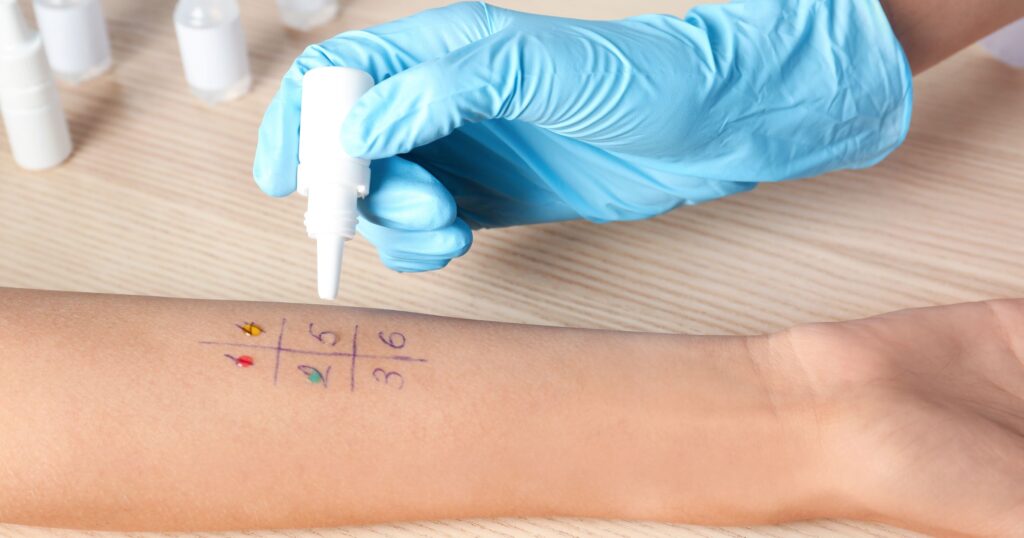 Allergen immunotherapy, also known as allergy shots, is a form of long-term treatment that decreases symptoms for many people with allergic rhinitis, allergic asthma, conjunctivitis (eye allergy), or stinging insect allergy.
Allergy shots decrease sensitivity to allergens and often leads to lasting relief of allergy symptoms even after treatment has stopped. This makes it a cost-effective, beneficial treatment approach for many people.
Find An Allergist Near You